I thought I'd put together an age-related post so that folks could get a feel for what's likely to go wrong when. I fully recognise that time and mileage will differ but these are my thoughts based on a daily driver which has been used more or less daily since December 2009 and, at February 2017, has covered 120,500 miles. I have had the car serviced at regular 12,500 intervals at Ford, mostly Lookers Braintree but also at TC Harrison Manchester while I was working away.
First impressions here:
Mountuned ST vs RS
Generally I've driven the car relentlessly for 7 or so years. I've done a couple or so track days and an Autocar hillclimb at Prescott back in 2012 but other than that, spirited road miles including Autobahn action from time to time.
Mountune UK cat back exhaust fitted around 2012
In 2012 I took a trip to Budapest and had the opportunity to stretch it to its limits on the autobahn, got to about 152 mph (gps verified, around 160-ish on the dash) before having to back off for traffic/weather. Once back in the UK the radiator sprung a leak, plenty of discussion about rads, eventually I replaced mine with an Airtec (took two to get it right but AS were really good about that), others think Pro or Spec-R are better and they could be right but I've got what I've got.
Around 50k miles my rear brakes were shot and front pads likewise, so new front pads (DS2500s) and new rear disc/pads (Ford oems). Mountune recirc fitted at around the same time.
Also around 50k miles my power steering sprung a leak, was a crack in the high-pressure pipe from the pump to the rack. Replaced by Ford for sensible money and I put it down to one of those things.
Around 80k miles the suspension decided to retire. Front struts started leaking and local dealer at the time, TC Harrison in Manchester, reported the bad news (I was working away at the time and needed a service). I replaced all with a Koni/H&R kit (thanks Dave @
Mr420
). Front top mounts were fine and they went back on. The Koni kit is brilliant, dialled in to +2 front and back it's very good. At this point I also replaced torque mount (Elevate) and front lower arm mounts (Hardrace).
At around 100k miles front discs had to go along with pads and rear disc/s pad likewise. So for me rear brakes are a 2:1 against fronts. The car is really hard on rear brakes and this is worth highlighting. The ESP system works quite hard at keeping us on the road
. Also I managed to warp a front hub probably on a track day (can't think of any other reason) so definitely worth thinking about your brakes when tracking the car on a small-ish track (I'm thinking Snetterton 300 here and that's got one of the longest straights in the UK!). Hub replacement was quite expensive! At the same time I had the oem catalytic converter replaced for Mr420's Mountune 200 cell cat and a new Mountune 3" downpipe. The oem cat was fubar'd and as Dave took it off bits of ceramic fell out all over the floor of his garage (sorry mate). He'd previously said I was lucky to keep one going so I'd say start to check around 80k miles if you don't have any "symptoms" beforehand. Mine started to collapse and made the car feel a bit lethargic. 200 cell Mountune/Millteck is great, the noise it makes is worth the black looks from the neighbours
Now at 120,500 and I really need to look at my exhaust manifold (it's leaking) and am really thinking of having my timing belt done early as the inlet camshaft is weeping oil. It's not chronic yet and not getting on the belt but I guess it's only a matter of time.
In my hands the front brakes have lasted 50,000 miles for pads, discs have run the distance, rears have been replaced twice in that time. Completely overhauled at 100k so 50k miles to replace rear discs and pads, 50k miles front pads and 100k front discs. @
Mr420
said I'd had my money's worth 😆
Next steps are new timing belt and all associated ancillaries, re-torque oil pressure bolt, camshaft seals - will keep an eye to see if they can last to 125,000 service interval. I'll get under the hood to tighten up the exhaust manifold studs/nuts then continue driving the bejeezus out of it
in the next few days or so.
Oh, and batteries don't really last that long, I'm on my third. Worth also spending a few minutes now and again unscrewing the earth mounting on the nearside strut mounting and making sure it's clean and clear. The ancillary earths on the front cross member are, in my experience good and clean, as is the one on the starter motor, the strut mount is the problem child...
I'll edit as things come to light...
Update: had some feedback from agent
@RS Steve
10k car over six years. The gearbox mount rubber had perished and cracked so that needed to be replaced, rear drop links had perished introducing play and needed replacing, the rear camber bolts had seized and Ford unfortunately don't do the bushes separately so whole arms were replaced with new camber bolts [ouch, that's a pain I've not encountered!] And noticed recently that the front radiator is leaking not much but ill need to replace this in the future but apparently a common problem. [yes, a problem encountered by Everyone, unfortunately].
Overall I'd say that low mileage cars can have just as many problems as the higher milers, although it might be appealing that they have very little mileage all of the rubber components become brittle and start to deteriorate with use, this is where most of my issues are coming from thing being seized or crumbling because of lack of use or more like because it had very little use and now it is getting used. Think my advice to anyone buying a low mileage RS would be to buy either a whole new set of rubber bushes for the car or go polybush. Other than that the cars been going well [thanks Steve, much appreciated!]
Useful feedback as a counter to my high mileage example.
As of 1st week of March 2017 the car has been in the menders. I reversed it into a lump of concrete and dented the nearside corner of the rear bumper (quite badly as it happens), I pushed in the aero shape which ripped off the rivets from the under side and ripped a tear in the leading edge, quite an effort for a parking manoeuvre! Whilst in at Kraftworks Chelmsford (good guys btw) for the repair, they are rejuvenating my rear arches (no paint on the insides, clean back to bare metal and some paint for the first time in its life) and renovating my front grill and whole front bumper. 120,500 miles of miles has taken its toll and it looks a mess. The guys tell me the wire mesh is £500 alone from Ford so a bit of dip and paint is a great alternative. Btw the rear bumper was repaired but a replacement would have been £450 in primer plus the cost of paint and refinishing.
Further edit: I've been looking at my exhaust leaking issue and, just prior to sending it off to Kraftworks I took a good look under the hood. I took the scuttle panel off and removed the exhaust manifold heat shield (what a job!) and checked the manifold studs/nuts, tighter than a youknowwhat! so nothing there. I also took the hot side hard pipe off to check it for condition and rub down/ repaint as we've had a few reports of cracking around the bend, support bracket area. The pipe was quite corroded although no leaks/cracks that I could determine. Hammerite satin back (and hours of wire brush and wet 'n dry to bring it up to condition) has sorted the pipe and the hoses seemed to be ok but on refitting all I think I've tightened everything up a notch and the noisy turbo/exhaust seems to have gone i.e. it's a loose boost pipe issue in my case, specifically the turbo to hot pipe hose, that was quite slack. Time will tell on that and hopefully a silicone boost pipe replacement kit will solve forever.
Update: 123,240 miles 6 June 2017 - D Day hehe
Just had the 125,000 miles service done and timing belt change. I tried to hang on to 125,000 miles but (shock horror) mileage has dropped over the last 12 months. Local Ford dealer came up with a reasonably competitive quote and the belt replacement kit includes the timing belt (duh!) water pump, two v belts (alternator and summat else, can't remember) plus a fitting kit which I think includes various plugs and seals).
On the plus side my experience is keep to the service interval and change the belt at 10 years/125,000 miles. On the downside, I'd say that the car now feels so much quieter and, more importantly, stronger. I suspect a degree or two of timing shift as a result of belt stretch and from my mini tuning days advance is good retard not and belt stretch would retard the valve timing, not sure to what extent the ECU would compensate for that (I'm also a subscriber to placebo effect so fully acknowledge that I want it to feel stronger 🤦).
Also reported at the service was some play in the front lower arm rear bushes. I'll need to check this to see if true or sour grapes as the bushes are hardrace versions. i think they've been on the car for around 40k miles from memory so will confer with Andy at A&K about mile-related lifespan. 40k's not bad in my book, the price you pay for precision 👍
Apart from that, nothing to report.
Update: 123,456 miles 16 June 2017
I passed a mileage threshold, don't usually do gratuitous pics but, tbh, quite enjoyed this one, had to run a few errands, hehe, as the following day was the Dunton 50 and wanted to get this out of the way first ...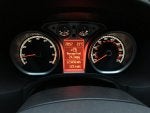 @
Dave276
, one for you mate...
Update: 126,500 and timing belt replacement has continued to provide good value for money. But (thanks be to God) Fred had come up with the numbers and I'm now at MR375! Thanks also to Dave @
Mr420
for the i/c and cat and I've had the rest of the full monty fitted at Mountune HQ on Wednesday 27 September. It's now jolly quick and the guys there couldn't quite believe the mileage (actually they could but I know when smoke is being blown up my
). I also had the rubber boost pipes replaced with silicone jobs.
Update: 127,255 miles 3 November 2017 and 6th MOT. Passed (hurrah!) and I was expecting trouble regarding the front wishbones or ARB but no, they're "alright". One advisory - front discs/pads wearing thin.
From a maint and what-goes-wrong perspective this from agent Steve @
stevey293
...
Front wheel bearings at 54k miles.
Rear antiroll bar bushings at 52k miles
Other than that pretty faultless in my time of owning it.
Stevey thinks road locally are causing him some issues and I think we can all concur with that...
We will all experience things at different ages and mileages which is why I'd like to keep this going.
Apart from that, it keeps burning fuel and putting a smile on my face daily.
Update: long, long, long overdue update.
Got the car serviced in June 2018 at Mountune, all good at one level, mileage was around 132,500 miles for the 137,500 service (I'm slowing up ladees and gennelmen!). The team confirmed a) my exhaust gasket is blowing and b) my Airtec rad is leaking (again ‍♂).
I've ignored the former and kept an eye in the latter and now, at around 136,000 I'm preparing to fix the former by going MR420 at my next annual service at Mountune's HQ and fixing the latter by having fitted a new radiator (prob Pro Alloy or Spec-R locally) fairly shortly.
In the interim, nothing had gone wrong apart from my rear strut top mounts have disintegrated and need replacing and the constant squeak from my drivers seat is driving me mad. I keep on greasing the runners (but they've become pitted due to my gargantuan weight, all 11.5 stones of me) but the problem recurs. I may well have to pullthe entire seat/frame assembly out (and fit a Pole Position in its place - watch this space).
Apart from that, not really much at all. My Michelin PSSs are down to their wear marks and will be renewed shortly (they've lasted ages!) and, given my mileage has dropped considerably, may go cup next.
Hope this is still interesting and will keep maintaining the thread.
Update: 19 May 2019 136,239 - I set aside the morning to replace my rear strut top mounts as they had been making a terrible racket for some time. I had Tom sit in the back and confirm that the damper tops were moving around (they were). So, £51 poorer, I removed the worst offender (offside) and 🤦 nothing more than a loose retaining nut :yep: so tightened up and put back on the car. Same on the nearside but not as loose. Couple of points to note, first is that 136k miles the mounts are still fit for purpose so they went back on, the other is that I couldn't remove the rubber sleeve without feeling like I'd tear it. So if you're going for a new set of mounts, I'd order a new set of sleeves at the same time.
Update: 28 June 2019 136,500 miles. 150,000 service and coolant hoses and inlet pipes fitted. Oh and MR420, oh and a new Ford OEM radiator to replace my 2nd replacement Airtec rad. Only advisory was a weeping nearside driveshaft oil seal so need to get that looked at soon-ish.
MR420 is rather awesome. Not forged, Fred said it wasn't necessary unless a track-day slave :yep: and mine isn't (yet).
Update: 5 July 2019 136,600 miles. Driveshaft oil seals replaced, one leaking the other not (yet). Fresh oil too, all Ford parts and Ford FE 75 oil. Oh and previous day it had a set of Michelin Pilot 4S tyres fitted. Black Circles and a 10% code, £604 fitted - bargain!
Update: 26 July 2020 139,579 miles. What a year! MOT on 25/10/2019 at 139,065 miles and all was well, or so I thought. Got the car home and, later that day, fired it up and it threw out the big triangle/spanner warning signal and my Scangauge showed P2108, Throttle Position Sensor. Cleared it and all was well (for the time being). I spent a month ******* around clearing codes, replacing the battery (I've had earth-related probs in the past which throw up all sorts of codes relating to throttle and other voltage-related codes) and driving the car gently. I did a breakfast meet and a trip to Pensthorpe for a wildlife photo session and, on the road, the car ran ok, idle speeds were a bit erratic and, while I wasn't gunning it, it ran ok most of the time. Some of the guys on here heard it sounding pretty sick at a Kent breakfast meet in Detling in November and when I got home from that it was thrown into the garage in disgrace and, essentially, that's where it stayed until today. So, yesterday, 25 July 2019 I fitted a new throttle body (they're jolly expensive) and today I fired it up, got it out of the garage and took it for several drives. And, guess what? All good! Now, here's the rub: did I really need to replace the throttle body? Once I'd fitted the new one, put the plenum back on and got everything else back to normal I took a look at the old TB. I pinged off the clips and separated the electronics and, to my untrained eye, the potentiometer lines looked good, the gears had all their teeth but the butterfly spindle was stiff at the 1/3 and 2/3 points and it wouldn't return to idle. A quick blast of Wynn's carb cleaner loosened things up and I do wonder if that was the issue. If so, I've now got a spare, if not I've got a paperweight 😆. Oh and the then new battery didn't survive the winter/spring/summer so a new one was sourced yesterday.
A couple or three thanks due: Dave @
Dave276
for his help in sourcing a new TB, John @
FRS 3506
for his help and drive train engineering advice and guidance and Lee (sorry, don't know your forum name) for the w/shop manual instructions.
Final word: if you get a P2108 fault code and the warning triangle of doom message on the dash, remove your TB and check the spindle sweep and clean if stiff before opting for a replacement. I can't warrant that advice as I replaced before cleaning but for the sake of a tenner's worth of cleaner it's worth trying before getting the credit card out!
Update: MOT time yesterday. I'd let the certificate run out (silly boy!) so had to drive it straight there this time and trust my luck with the emissions test (more of that in a minute). Given Covid and my throttle body issue after last year's MOT (see updates in the thread) the mighty Focus has covered an inter galactic 1,135 miles in the last 12 months 🤦
So, it passed, which is not a great surprise. Same advisory as last time (discs rusted and pitted) but they picked up on the rear heat shield rattling, which it does from time to time. I've previously had a Ford repair kit fitted at my local dealer but unsure what to do this time - keep and fix or cut it out?
Emissions comparison, remember last year super hot, this year run for about 4 miles:
2019
Fast idle
CO 0.09%
HC 12ppm
Lambda 1.00
Natural idle test
CO 0.26%
2020
Fast Idle
CO 0.17%
HC 9ppm
Lambda 1.00
Natural idle test
CO 0.28%
Conclusion: better hotter but not really too much in it. Also, my cat is a Mountune sports cat, it was fitted at about 100k miles iirc (details in the OP) and it was 30k miles old when fitted. With another 60k miles on it it still seems to be doing the job.
Update: 7 September 2021 141,200 miles. Clearly with the lockdown mileage has fallen away dramatically. I had along weekend in the Yorkshire Dales with Clive
@Flying Fish
and met up with a number of members from Yorkshire and related areas for a trip along the Buttertubs Pass. Clive and I (and Per) took in the North York Moors too. However, during this trip, which involved some "spirited driving" the Focus started to develop a knock in the drivetrain, mainly at low speed and during on/off throttle crawling. Fearing I'd done a driveshaft joint or the central support bearing I ignored it
as the car was fine when up to speed. I booked it in for an annual service on 7 Sept with Fred at FJRS and asked him to check it out. Long story short: the retaining bolts on the end of both driveshafts (that you can see through the hub) had worked loose and thus the CV joints were floating in the hub. RSs have a simple retaining system yet mk2 STs (like most FWD cars in my experience) have effing great nuts holding the drive shafts to the hub. Feature of the revoknuckle apparently. But, thanks Fred, no charge for that and car is back to normal
Moral of this story: if you think you've done a driveshaft, check the retaining bolt first.
Update: 29 December 2021 141,389 miles
MOT passed today (thanks to Tom for taking it, I'm in quarantine) in prep for Sunday's Southend run, which I hope to make as long as I can produce a -ve covid test or two 🙄. Nothing specific to report, glad I invested in a Ctek MXS5.0 for when the car's laid up.