Morning all,
Been meaning to write a post regarding my recent re-purchase of an Ultimate Green MK2 RS so here goes.
Little bit of history about myself first.....
I've Been an avid lover of hot hatches since I bought my first car all those years ago! (27 to be exact) and it was a black Fiesta Supersport that caught my eye and got the wheels in motion.
To be fair the car was an absolute dog.....had been resprayed/repaired after a front end crash and lets just say the bodywork under the fresh paint wasn't as I'd hoped lol but through my rose tinted glasses it looked fantastic!
I did enjoy the car for the time I had it...needless to say it taught me a big lesson and I've always checked out my cars much more thoroughly ever since!
After owning various hot/lukewarm hatches.....Citroen AX GT...Clio 16v.....Honda Civic Vti......Golf GTTDi (Sorry Diesel)....Astra VXR and then a Civic Type R (FN2) I finally came to my senses and purchased a brand new Ultimate Green Focus RS!
I always wanted the MK1 Focus RS but never had enough money at the time
I had the car a little over 3 years and in that time I did a few mods....biggest was getting the Mountune MP350 kit fitted which in my eyes totally transformed the car!
From that day forward my love of Mountune grew stronger....
Few things changed in my life at home and I decided to part-ex the RS at Lotus Newcastle for a S2 Lotus Exige 240.....
This had been a dream of mine for a number of years but when driving away from the garage I couldn't help but look back at the RS thinking what am I doing? will I regret getting rid?.........The answer would be YES!
Lotus only lasted around 18months...in the last year I owned it I think I only did around 800 miles and the car was just sat in the garage gathering dust, I yearned for another hot hatch to use as my daily and shortly after did a deal on an A45 AMG.
Really Liked this car...very quick lovely spec (Almost all options) but I didn't love it, wasn't a fan of the auto box and it just didn't stir the juices like my old RS had done. So after around 12 months of ownership I decided to start looking for another RS.....
6 Months down the road and I saw a post from RS Directs Instagram account of a 1 owner MR375 being collected on their low loader.....this looked interesting......straight onto the phone but they had no firm details as car hadn't even arrived at the garage! (The early bird catches the worm)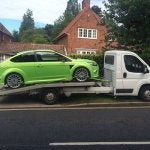 Eventually spoke to James at RS direct and he confirmed it was in A1 condition with a mere 16,700 miles and all Ford stamps from new
even had all tax disc's in the glove box
Tried getting a trade in price on the A45 but to my surprise they didn't seem interested so ended up selling the car to Wayne at W Ferguson's in Carlisle with the help of fellow forum member @
3903gareth
......cheeRS again fella
As soon as Wayne (Top Guy) had confirmed he would buy my car the deposit was paid on the RS...and it was full steam ahead!
Finally collected the car in July 2016 and I can honestly say I have no regrets whatsoever!
The car was previously owned by forum member @
Ches99
and reading his posts its been one pampered car!
Full spec is Lux 2 with upgraded seats, was MP350 which was later upgraded to MR375 with Titanium exhaust option.
Car also had the Mountune clubsport suspension which was a big bonus for me as it was no longer available to buy.
Since purchase I've bought a few bits from Mountune and a few from other forum members......
Got the front and side carbon Mountune decals, full set of Mountune mats including boot mat...mountune gearknob/gaiter.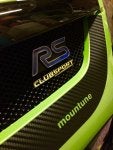 Also a new Mountune torque mount, car already has an aftermarket one fitted but wanted it all Mountune 8)
Managed to get hold of a set of Mountune Alcon's in yellow (Still to be fit) and an immaculate set of silver Mountune Ultraleggera's which will be changing colour in the near future.
So now the car is at "Full Monty" which I never thought possible so all in all I'm well chuffed.
Have a few other things I want to do to it but gonna take my time and enjoy the car.
I've never owned a car that has got under my skin in the way the RS has twice lol.
They just look/drive and sound unreal!! Even now when I see one on the road they still turn my head.
This car will be staying put with me for a long time as I'm not making the same mistake twice! lol
The car has become a bit of a garage queen whilst in my ownership and was recently sorn'd for the winter months but this year I'll be trying to get to as many shows/drives out as work will allow (Shift worker)
Hope I haven't bored you all senseless with my jabbering's......
CheeRS
Scott.