Hi all,
Not sure how much love this will get but it is a ford, just not an RS or does it have a turbo haha.
I've got myself a fiesta ST 150 as a base car to strip and turn into a full on track/race car.
It started life as a standard ST 150. 34k miles on it and 2 owners from new. Not a bad little find really and for the price I couldn't say no.
Plans are:
Engine:
Forge Pistons
Forge con rods
Arp bottom bolts
Arp head bolts
Cosworth bearings
Cosworth head gasket
Modified chain tensioner
200 plus spec cams
Double valve springs
60mm throttle body
BTCC manifold
Miltek 4-2-1mainfold, sports cat and cat back.
Baffled sump
Power steering cooler
Oil cooler
Alloy radiator plus silicon hoses.
The build is going to be built up by a ex Mountune engine builder with a few ex BTCC parts.
The build will push the car to about 220/230bhp, weight of the car I'm hoping for just over 1000kg.
As for the car most of the interior will be removed with the dash being flocked in time.
Seats will be replaced with bucket seats alone with 4 point harness.
Racing seating wheel to loose the airbag.
Roll cage with a harness bar will be added.
Fire extinguisher with electrical cut off switch and gauges for oil temp, water temp and oil pressure.
Suspension with be coil overs with camber adjustment.
Brake will be mintex focus ST 170 front discs making them 300mm, standard callipers fitted with DS2500 pads, 660 brake fluid and stainless brake lines.
Rears will be focus ST rear discs making them 280mm, DS2500 pads and stainless steel lines.
Wheels are 15inch team dynamics hence the use of the 300mm discs, this is the biggest that will go under.
Tyres will be Yokohama ad08's before moving onto a second set of wheel with donlop slicks.
This is the car in question when I got it.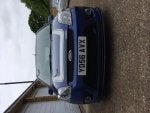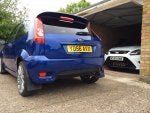 New wheels, Pro race 1.2 in 15inch et35.
Fitted with some lovely 205 50 15 yoko tyres that have loads of life left in them. The guy I got them from was using them on a kit car for track days as wets so never really had much heat in them or heavy loads.
These really are like new, still have the plastic on the centre caps.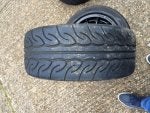 So that's the wheels/tyres sorted out and on the car, next up was getting the suspension and brakes sorted.