Hello,
Decided to start addressing some slight surface rust on the rear subframe today, didn't take any before pictures because the rust wasn't really bad but wanted to get it sorted before the weather turns again.
So the process was to wire brush the worst of the rust off and I then applied 2 coats of Jenolite rust converter which neutralises the rust.
Next I applied 3 coats of Bonda rust primer with zinc to further protect from rust.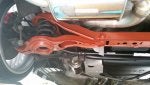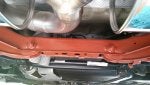 Finished pics applied 2 coats of por 15 chassis coat as per a few recommendations.