Well, I thought it was about time that I started my own 'build' thread, i've been on here for a fair old while now and owned my RS for over five years! I know, baby steps...
:smile:
My PB RS is a 59 plate, lux 1 (with BT and USB), build no 1747, and was purchased in April 2012 with around 15,000 miles on the clock. It now has in the region of 46,000 miles on the clock, and I now rarely achieve more than 3-4,000 miles per year.
This thread is not really a build thread as such, more of a maintenance thread, for a number of reasons:
1) I like tinkering and messing around in my garage;
2) The RS is getting on for eight years old now (still a spring chicken, relatively speaking!) but needs a bit of TLC and love;
3) Due to my job I have fairly long periods away from home, but conversely have fairly long periods of time at home on leave where I can be left to my own devices, while my wife is at work, to tinker with the car!
4) I've never been much of a modder, and prefer to keep the RS as close as possible to factory standard.
My modifications to date are: painted brake callipers (more on those in due course), mudflaps, seat covers, and a Mountune Recirc valve. I know, check me out eh? Quite the modder! Lots of people have mentioned this 'slippery slope' business; I have yet to find said slope, it's flat as a pancake round near me...
:bleh: :laughing:
This is my Mk2 FRS:
The car has enjoyed a little fame, and featured in Autocar magazine back in summer 2014, as part of a 'new versus used' feature they were doing:
It was good to get the opportunity to get involved, spending the day at Bicester airfield with the Autocar team; it certainly is very enlightening seeing how it all works behind the camera lens! :nice:
Had a stint as a wedding car too, at my (now) brother-in-law's wedding!
So, onto the mods: the brake callipers were in need of a tidy up so I had them painted 'Carbon Grey' using some Foliatec paint. They looked much better, however the grey was more of a green in certain light, so about a year or so later I painted them silver. Again, this was an improvement but still not quite what I was after, as I wanted them a darker grey rather than silver! :facepalm:
So yesterday I managed to get the colour I was after: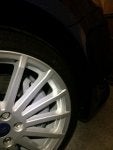 Not brilliant pics i'm afraid, but you get the idea! The colour reminds me a little of the new MG paint used on the Mk3 RS; I like it and it suits the callipers imo! I'll get some better pics when I next move the car out of the garage. :nice:
I also took the opportunity to do the spoiler 'mod' and renew all the foam bits, as well as clean all the gunk out from under the spoiler and rear window glass. It wasn't actually too bad under there but it was good to get it done! It was easy enough, following the guide put together by Clive and others on here, and made sure I gave the bolt threads a good clean to get any old thread lock off. As it was, there was very little on there to remove in the first place...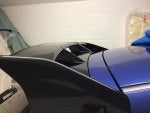 The other job I have just done is to clean and paint the Hex posts that hold the crossover pipe in place. I had noticed over the years that the bottom sections on a couple of posts were corroding, so thought I would wip them all out for a clean and paint! This job has been nagging away at me for ages so it was good to get it done. I'm still waiting for the posts to dry, so i'll put some pics on of the finished engine bay in due course...
Again, not great pics, but they give you an idea of what condition they were in when they came out:
After a brush down and de-grease: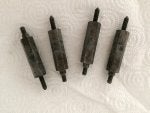 Some of the more observant amongst you will have noticed that this engine bay is as it was when it left the factory; yes, it even has the standard plenum! :blink: :smile: Anyway, this is my build thread, so no talk of 'you must change this, that and the other, before it goes bang' etc etc :bleh: Many thanks. :nice:
Right, think that's all for the time being, i'll pop some piccies of the Hex posts on when they have dried and are back in place.
Jobs for the future (we'll see how bored I get over the next week or so, but to be done this year at any rate!) include:
1) get the bumpers and side skirts off and have a nose around under there; no doubt will need a clean up....
2) adjust the mudflaps at the back of the car; they don't seem to sit properly. I think it's due to the shape of the arch liners, they 'bulge' a little and result in the flaps not sitting correctly. I'll get some pics up in due course so you can see what I mean; any advice would be appreciated!
That's all for now folks, thanks for reading. :nice: