Hi everyone,
I've been on the forum since November 2014 and while I've only owned my RS since April 2015, I've enjoyed every moment on here and moreso recently actually owning an RS. I figured it's been long enough without actually setting up my own project thread so here it goes - I'll try and keep it as organised and presented as I can.
I shall start with when I first bought the car and a little bit of background information about it. I bought my Focus RS on April 16th from a well-known member on here who looked after the car miraculously. While saving for an RS for a very long time, I wasn't long in the market for one as I was offered the choice of purchasing this one so soon after being 'ready' to make the leap and get into the RS scene.
The car had done around 46000 miles before being passed over to my ownership. Full service history and 2 previous owners. It's a fully loaded spec'd RS with Lux packs 1 & 2 along with the USB/BT and leather seat upgrades. The plan is to fo full-fat Mountune over the course of my ownership which includes going fully forged via Mountune, MR420 upgrade and somehow sourcing Alcon brakes and Clubsport suspension, finally finishing up with some black and yellow Mountune branded Samco hoses. Not much, eh? :nice:
I'm a photographer in my spare time so getting out as soon as I could with my camera was one of the first things I did. Here are some photos of my RS the week I bought it: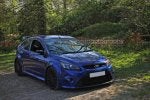 It's been an incredible 4 months of ownership so far at the time of typing this section of this thread up and I can only imagine the next many more months to come, years even, are going to be even better.
The next part of this post will list the current mods and changes that the car has. It will also includes potential plans and thoughts of the direction I wish to take my RS. I hope you all enjoyed reading this short-ish introduction to my project thread. I will, of course, be updating it gradually as and when I get on with doing bits to my pride and joy.
Thanks for reading,
Zack :smile:
Modifications & Specs​
​
Performance - ​
Mountune MR375 upgrade,​
Full Mongoose 'Original' exhaust system,​
K&N Group A air filter,​
25mm lowering springs on front, 20mm on rear,​
Cold air feed running from bottom of front grill,​
​
Styling -​
Gloss black alloys,​
Black mudflaps with Mountune stickers,​
Mountune 'RS wing badge' stickers,​
Mountune Racing 'M' badge,​
Nurburgring gel badge on boot,​
Focus RSOC gel badge under spoiler,​
RS Motorsport number plate surrounds,​
Raised font with blue border number plates,​
Personalised registration plate,​
Blue led puddle lights,​
Transparent sunstrip,​
Black 'RS' badge inlays,​
Team Heko wind deflectors,​
Red brake calipers,​
Gloss black brake caliper plates with 'RS' stickers,​
'Carbon fibre' hydro-dipped bonnet vents and fog rings,​
​
Under the bonnet -​
'Zebra' hydro-dipped engine cover & slam panel,​
Black & yellow Mountune Samco air filter hose,​
Blue Samco coolant hoses,​
Autospecialists under-bonnet chrome - full set,​
Various engine bay parts painted gloss black,​
Mountune stickers,​
Autospecialists gel badges,​
RS build-number gel badge,​
Chrome symposer delete blanking plate,​
Slam panel side plates,​
Various led lighting,​
'RS' sticker,​
One-off, custom-made 'M375' gel badge,​
​
Interior -​
Fitted Recaro seat covers,​
Leather armrest,​
Mountune push-start sticker,​
RS build-number plaque on ashtray,​
Blue led courtesy & footwell lights,​
Recaro seat base plates with 'carbon fibre' wrap,​
Black 'RS' door sill and steering wheel inlays,​
'RS' gear stick wooly hat, :laughing:​
​
Future Plans -​
Mountune fully forged engine,​
Mountune MR420 upgrade,​
Mountune Alcon brakes,​
Mountune Clubsport suspension,​
Black and yellow Mountune Samco coolant hoses,​
Paint engine and slam panel,​
Paint 'Mountune' logo on intercooler,​
Mountune Clubsport badge,​
Mountune boot and interior mats,​
MAGAZINE FEATURE! :bleh:​