Recently did my brake pads and took some pics for a How To so without further ado
I have attached an excerpt from the manual in case anyone wants it.
Tools I used
13mm Deep Socket and Wrench
Torque Wrench
5mm or less Punch (not 100% on the diameter a I used a 3.5 tapered punch)
8mm Punch
RC Car wheel nut tool
Recoilless Hammer (very handy in tight spaces!)
Piston/Pad Spreader (like this
https://www.amazon.co.uk/brake-piston-spreader-seperator-calliper/dp/B01C8YZH7G/ref=sr_1_1?ie=UTF8&qid=1518550839&sr=8-1&keywords=piston+spreader)
Brake Cleaner
Rags
Syringe (only if you topped up the fluid, get it from your local chemist)
Tools to remove the wheels
Tools to jack the car
1) Jack the car and remove the front wheels
2) Pop the hood and undo the brake fluid reservoir cap, remove some fluid using the syringe (never go below the min level though!)
3) Undo the the 13mm bolt
4) Use the 8mm punch and hammer to start pushing out the bridge bolt. Eventually the thicker part of the bolt will hit the pad spring and the inboard end will no longer be in the hole on the caliper. At this point push down on the spring with your thumb and use you other hand to carefully pull out the bridge bolt. Try and do this in one go, otherwise the spring may push the bridge bolt into the caliper scratching it if you are not careful.
5) Use the smaller punch to punch out the top pin, once it is flush with the caliper you should be able to pull it out the backside.
Sensitive content, not recommended for those under 18
Show Content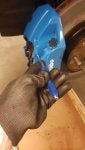 6) Flip the pad spring downwards and then twist it to remove it from the lower pin.
7) Repeat step 4 for the lower pin
6 ) Use the pad spreader on the middle of the pads, the pads have a small lip in the middle use that to start spreading them. I found that this gave me a bit of room to then spread the pads at either end, do this in small increments alternating the top and the bottom.
9) Once the pads are almost fully retracted wiggle them left to right to loosen them from the pistons. The OEM pads have a sticky surface that sticks them to the pistons. If they don't come off try pushing the pads back a bit more. You can also try using a trim tool between the caliper and pad to lever them off.
10) Remove the pads. Use the pad spreader to push back the pistons and use brake cleaner and a rag to clean the glue gunk off pistons.